Children who are placed at Casa are often traumatized due to the conditions from which they were taken and are generally hungry, tired, and scared. At Casa, they find a clean, safe, and loving Christian environment where they can begin to heal and recover from their experiences. Through consistent routines of healthy meals, school, chores, playtime, and devotionals, children are able to become a healthy, active, and loving part of our Casa family.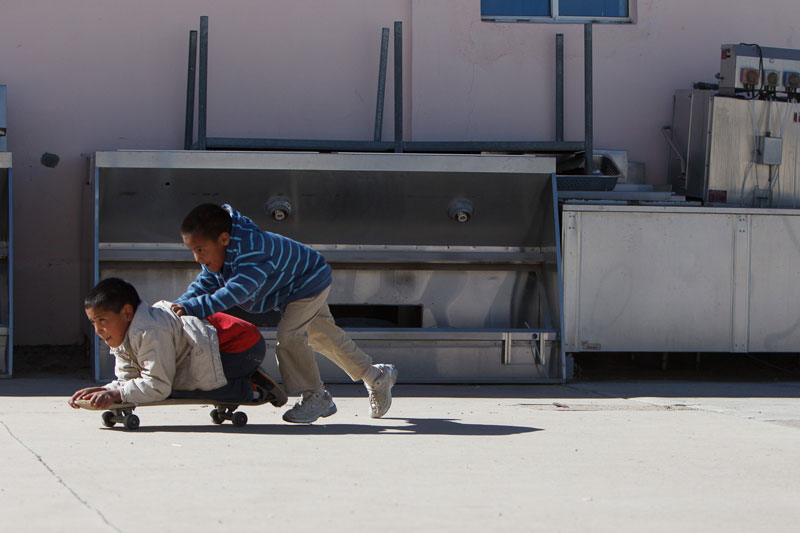 Spiritual Direction at Casa
Jesus' words to us in Matthew 22 draw an undeniably clear perspective of God's view regarding the ultimate purpose and focus of all our earthly endeavors. These verses serve to define the mission and daily activities at Casa de la Esperanza. The greatest commandment gives us the foundation and framework of love wherein our true hope lies. Thus we can be a "house of hope".
Our children are taught Biblical principles each and every day. They are instructed to love and honor God, to work and be industrious, to study diligently, and to develop their talents and abilities for service as unto the Lord. It is modeled to them to love their neighbor as themselves and to be kind, honest, and considerate of all those around them. At Casa de la Esperanza, we are dedicated to the purpose of serving God through our love and service of His children living at Casa. We are very attentive to the influences and examples of the staff and all of our organizational activities that effectively shape the children's lives, directing attitudes and values towards our stated purpose.
Every opportunity is taken throughout the day to express our thankfulness and praise to our Lord. A prayer is said by one of our children before each meal followed by the recital of a Bible memory verse involving all the children. Memory verses can include all the books of the Bible, the Ten Commandments, all of Psalm 23 or Psalm 100 or any one of several others the children practice. Our daily routine also includes an evening devotional where the children sing praise songs and receive a message from God's word.
Sunday morning worship services are held in the dining hall. People from the community are welcome to join us in the time of worship. The young men at Casa who have been baptized play an active role each week in the worship service. Over the past 14 years, there have been over 160 baptisms, including community members, visitors from the United States, and youth from Casa. Please continue to pray for the church and young Christians here at Casa and in Anáhuac.
Children's Activities and Trips
Exploring Culture and Creating Memories
Thanks to the generosity and thoughtful love of our supporters, our children are able to experience things that most children in their situation never do. They look forward to picnics, trips, and outings. During the last several years, many of our older children have been blessed with the opportunity to represent Casa in the country's capitol. They went to Mexico City where they were able to experience more of their own culture and observe life outside of our rural community. They were even able to meet President Fox and attend the Christmas party at the Palacio, which is Mexico's equivalent to the White House in Washington, D.C. Another trip included camping at the world-famous Barrancas de Cobre (Copper Canyon) with canoeing and a campfire. The children have visited museums in Chihuahua City and many other local sites of historic interest. We look forward to more memory-building trips in the future.
"Train a child in the way in the way he should go, and when he is old he will not turn from it." Proverbs 22:6
The opening of Casa Christian Academy in August of 2015 was an answer to many years of prayers for a school where God would be the center of excellence in our children's educational experience. The Academy consists of two components. The first is a state-of- Chihuahua sponsored program targeting the Tarahumara Indians. Most of our children share that lineage to some degree. The other component is a curriculum that is Christ-centered where God serves as the basis and source of all knowledge.
The government-sponsored program provides two teachers for our students. Two other teachers, who are employees of Casa and funded through the Casa de la Esperanza Foundation, provide specialized tutoring and assistance with our classroom instructional program. Since many of the children have never attended school before entering Casa, they require a more intensive program. The regular state-sponsored school day begins at 8:00 am with prayer and a devotional and runs until 1:30 pm. After a lunch break, one-on-one and small group tutoring is provided up until 6:00 pm by Casa's instructional staff. Special assistance groups are organized by the results of diagnostic tests conducted on each child to gauge their learning needs. As a result, our children have performed surprisingly well with the special assistance they receive.